Is Honey Vegan?
Veganism refers to having a diet that minimizes animal exploitation and cruelty. It means that veganism abstains from consuming animal products including meat, meat products, eggs and dairy products. It also avoids the products made from them.  Most of the people consider all animal based products as non-vegan. However, there is controversy about the honey produced by honeybee. Some vegan people consider honey as a vegan and so they consume it. Whereas some others consider it as non-vegan and abstain from having honey in their diet. Since honey is produced by animals. So, by definition honey is not vegan.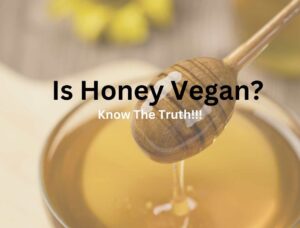 This article aims to make clear about whether the honey is vegan or not. Let's explore it.
What Is Honey?
Honeybees make honey for their own benefit. Honey acts as the source of energy for the bees. In the absence of honey, honeybees starve and cannot perform their own function and it may even lead to their death also. During harsh weather conditions and winter months, honey serves as the source of essential nutrients for honeybees. For the production of the honey, honeybees visit about 1500 flowers to collect enough nectar to fill up their honey stomach. They have a separate stomach, in which the enzyme breaks the nectar into honey. At first they collect nectar by wandering over the field and after returning to the hive they regurgitate it to make the honey. In its lifetime, one honey bee makes honey equivalent to one twelfth of a teaspoon.
Basically, we people have the misconception that the honey bees make honey for us. The truth is that honey is made for honey by honeybees for themselves. Harvesting honey may cause a negative impact on the health of honeybees.   
Why Do Most Vegans Avoid Honey?
As it is already mentioned that there is controversy whether honey is vegan or not. Like other animal products like meat, eggs, dairy products, honey is not categorized into any category. So, there is still controversy whether it is vegan or not. Most vegan people avoid honey in their diet. They abstains from having honey in their diet citing the following reasons:
It results from the exploitation of the bees.
Honey farming is viewed similar to animal farming by most vegan people. As per them for optimization of benefit farmers employ many practices that are against the belief of animal activists. Frankly saying they are unethical. These unethical practices employed by farmers include frequent removal of queen bees, use of different kinds of supplement to fulfill protein and carbohydrate requirements of hives , excessive use of antibiotics and other forms of chemical for insects and diseases control. Vegan people believe that such types of farming practices are against animal welfare. So, they abstained from honey and honey products in their diet.
For optimizing benefit, farmers employ practices that exploit the honey bee. These practices are as follow: 
i) Farmers clip the wings of queen bees to prevent the queen from leaving the colony.
ii) Excessive use of pesticides and antibiotics have severely affected the health of bees.
iii) Farmers fed bees with nutritionally inferior sugar syrup.
Honey farming has a negative impact on the health of bees.
It is believed that commercial bee farming harms the health of honeybees. Honey is basically produced by honeybees for the betterment of hives. It serves as the source of carbohydrates, proteins, antioxidants as well as antibiotics. They produce honey for consumption during winter months. In commercial farming, farmers harvest honey and hence avoid the bees for consuming honey. To feed the bee, farmers replace honey with several additional supplements which severely deteriorate the health of bees. Thus, due to these ethical concerns most vegan people avoid honey in their diet.
 

Commercial honey farming harms ecosystem
Foraging the bees with single crops prevents them from getting diverse nutrients. This has severe impacts on the health of the bees. Large scale bee production can spread infections among the pollinators. This leads to the decline in the number of pollinators, which is disastrous for the ecosystem.
Most commercial beekeepers burn the beehive to get rid of many diseases. This causes the death of many bees.  
As we know that vegan people try to avoid or minimize animal exploitation, so most vegan people avoid honey in their diets. Some farmers may produce honey following organic practices. So, if you are not vegan, you can consume it.  
Do We Call Honey An Animal Product?
Honey is the product of bees. Bees gather nectar from different plants during their journey. After collecting nectar, they return back to their hive and regurgitate it and convert it to honey. Many enzymes are responsible for the conversion of nectar into honey. Since, honey is produced by insects which belong to the animal kingdom. So, honey is surely an animal product.
Why Do Some Vegan People Prefer Honey?
Some vegan people believe that there is an inseparable relationship between bees and many plant products that we prefer as a vegan diet. So, these people assume that eating honey does not lie beyond the vegan values. They raise a serious issue that people who do not consume honey should also have to avoid other plant based diets.
Alternative To Honey For Vegans
Yes, there are a lot of alternatives to honey for vegan people. You can replace honey with several plant based products.  These alternatives come in various flavors, textures, and colors. Unlike differences in texture, flavors and colors, they all are high in sugar content. Some most common alternatives of honey for vegan people are illustrated below:
1. Brown
 rice syrup
This is popularly known as malt syrup. Brown rice syrup commonly known as malt syrup is made by enzymatic breakdown of starch.
2. Date
 syrup
Date syrup is obtained by extracting liquid portions of cooked dates. It can also be obtained by blending boiled dates with water.
3. Maple syrup
Maple syrup is made from the sap of a Maple plant. This Maple syrup is a rich source of vitamins and minerals. Several studies have reported that Maple syrup consists of about 24 antioxidants.
4. Blackstrap molasses
It is a thick, dark brown liquid obtained by boiling can of juice. It is rich in iron and calcium.
5. 
Barley malt syrup  
This syrup is made from sprouted barley. This has a golden color.
6. 
Agave syrup
This is extracted from cactus. Agave syrup is perfect for hot drinks. 
7. 
Vegan honey
Like vegan meat, vegan honey is available in the market. Vegan Honey Company that makes honey from plants without involving the bees and Suzanne's Specialties: Just-Like-Honey Jar that made honey from natural sweeteners are two companies that produce vegan honey.  
As these honey replacers are high in sugar, moderate consumption is beneficial. As added sugar may harm your body, so be wise enough while consuming them.
Is It Good To Consider Honey As Cruel?
We usually harvest honey by removing bees from hives. This causes harm to bees. Sometimes commercial farmers kill the bees intentionally to control the spread of different types of diseases. Also commercial producers replace high nutrient-containing honey with nutritionally inferior corn syrup, isn't this cruelty towards the bees? Considering all these facts, we can consider honey as cruel.  
Why Do Bees Need To Be Protected?
As we know that honey production by a bee is very small i.e. one bee in his lifetime produces honey that is equivalent to one twelfth of a teaspoon. So, you can think about the number of bees required to produce one jar of honey. But, during their movement for collection of nectar, they really perform an outstanding job. This job is that they pollinate the crops that we have grown in our field. Proper pollination is crucial for improved production and productivity. Due to these outstanding jobs bees need to be protected. Besides these, if you are vegan, you should avoid honey for ethical reasons.   
Conclusion
Most of the vegan people think that honey production exploits bees, so they avoid honey in their diet. Large scale honey production includes many practices like clipping of wings of queen, excessive use of pesticides, replacing honey with inferior sugar syrup which are taken as unethical practices by most vegans. Commercial bee farming can help in pollination and improves crop production. However, if the ratio of honeybee and other pollinators gets unbalanced, it may lead to decline in the number of pollinators. There are many reasons which support that like other animal products including meat, eggs, fish and dairy products honey is a non-vegan item. If you are vegan having preference to substances having sweet and sticky consistency, you can enjoy several plant based alternatives including Maple syrup, Blackstrap molasses, Barley malt molasses, Date syrup etc.  You can enjoy the same nutritional benefit from these alternatives.